Brymarts Landscapes are an Award Winning Garden Walling Company covering Surrey, E. Sussex, Kent & London
Constructing the right Garden Walling for your landscaping project can greatly enhance the beauty and functionality of your outdoor space. Brymarts Landscapes have many years of experience and will be able to help you achieve the desired outcome you are looking for. Please take a look at some of the projects we have developed for our clients. Our photo gallery only has a very small sample of Garden Design projects we have completed. If you have anything specific in mind or you need us to help with your next project, then please get in contact today.
For more information about all the services that Brymarts Landscapes offers, then please get in contact today by calling 01883 347771 or alternatively, please email us. We look after customers in Caterham, Croydon, Purley, Coulsdon, Surrey, Kent, E. Sussex and London.
The Benefits of using Brymarts Landscapes for Garden Walling
Using a professional landscaping company like Brymarts Landscapes to construct a garden wall can be a wise decision for several reasons:
Brymarts Landscapes are Experienced in Garden Walling: Professional landscapers like Brymarts Landscapes have the experience and knowledge to design and construct garden walls effectively. They understand the best practices, materials, and techniques to ensure that the wall is built to last and meets your specific needs.
Garden Walling Design: Brymarts Landscapes can help you design a garden wall that compliments your overall landscape design. They can offer suggestions on the garden wall's style, materials, colour, and placement to ensure it enhances the aesthetics of your outdoor space.
Using Quality Materials For Garden Walling: Brymarts Landscapes often have access to high-quality materials, including bricks, stones, and other wall materials. They can source materials that are not only durable but also align with your design preferences.
Efficiency in Garden Walling: Brymarts Landscapes have the tools, equipment, and skilled labour necessary to complete the project efficiently. This can save you time and ensure that the wall is constructed correctly.
Custom Designing Garden Walling: Brymarts Landscapes can tailor the garden wall to your specific needs and preferences. Whether you want a decorative wall, a retaining wall, or a combination of both, they can design and build it accordingly.
Project Management: Brymarts Landscapes will oversee the entire Garden Walling project, from initial design to construction and finishing touches. This can reduce the stress and complexity of managing the project yourself.
Safely Constructing Garden Walling: Building a garden wall involves heavy materials and, in some cases, working from heights. Brymarts Landscapes prioritise safety, reducing the risk of accidents during construction.
Long-Term Investment: Garden walling constructed by professionals like Brymarts Landscapes is likely to be more durable and have a longer lifespan, providing a better long-term investment for your property.
Maintenance Advice About Garden Walling: Brymarts Landscapes can provide guidance on how to maintain and care for your garden wall to ensure its longevity and appearance.
In summary, Brymarts Landscapes offers numerous advantages, from creating a beautiful and functional outdoor space to increasing property value and ensuring the long-term success of your garden. When working with a professional, you can expect a well-thought-out design that meets your needs and enhances your enjoyment of your outdoor environment.
For more information about all the services that Brymarts Landscapes offers, then please get in contact today by calling 01883 347771 or alternatively, please email us. We look after customers in Caterham, Croydon, Purley, Coulsdon, Surrey, Kent, E. Sussex and London.
Read More
Gallery
Before After Gallery
Testimonials
What our clients say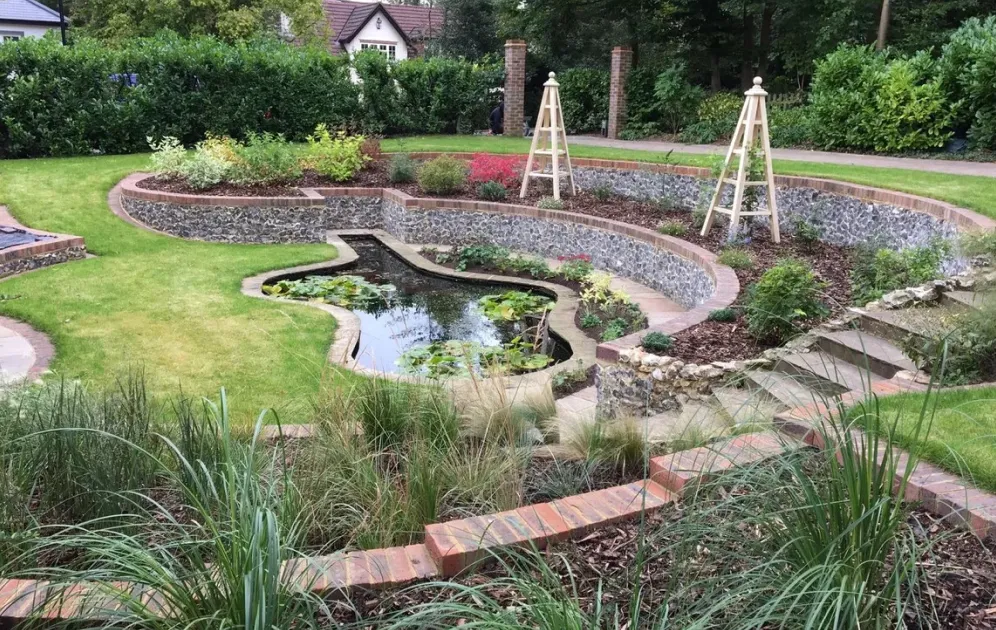 Accommodating, Flexible & Keen To Please
Thank you for another excellent job done. Reece has done a good job on the re-pointing and Sue and I are both pleased with the outcome. I have used this company several times over the last 20 years. They are very accommodating, flexible and keen to please. They turn up when agreed and they do a great job. Value for money and I am sure they have lots of satisfied customers.
Colin
Friendly, Punctual, Reliable & Worked Hard
This was a big project requiring removal of the existing garden patio and the levelling out of the ground and rebuilding the garden infrastructure. The initial consultations were constructive with plenty of options offered. Once work commenced, Mark and his team were friendly, punctual, reliable and worked hard. Delighted with the garden when finished and looking forward to completing the planting in the spring. We would have no hesitation in recommending Brymarts Landscapes Limited.
Mr and Mrs Potter
Brymarts Came Highly Recommended
Brymarts came highly recommended by a friend. Our starting point was literally a flat, blank canvas, resembling a football pitch which was ultimately transformed into a masterpiece. The expert team gave us options to work with and choose from, and executed the final plan in a thoroughly professional and outstanding manner with such attention to detail. We are amazed with the result and are already working on further projects for the new year. Thank you Mark and team.
Karen Nicholas
Transforming Your Home &
Business Gardens for 15 Years.
With years of experience and knowledge, Brymarts Landscapes are here to help you transform your outdoor spaces for your home or business. We specialise in providing clients with all services which includes Garden Landscaping, new Garden Designs, Soft Landscaping, a new Patio, Driveways and much much more. We offer tailor-made solutions that meet the specific needs of our customers, ensuring that your garden stays healthy and green. Let us transform your outdoor space into a peaceful oasis of relaxation and rejuvenation. With Brymarts Landscapes, you can rest assured that your garden is in the best possible hands.
High Quality Gardening Services
Our focus on detail and quality means that we use only the best products and equipment to achieve your desired outcome. Our comprehensive range of services includes everything from garden design and landscaping to driveways, patios, and decking. We pride ourselves on being professional, reliable and affordable, ensuring that you get the best possible service every time.
Many Satisfied Customers
We are passionate about what we do and take pride in delivering quality services that exceed expectations and prioritise communication with our clients to ensure that your unique vision is reflected in every detail of our work. We're committed to providing exceptional customer service and work tirelessly to ensure that your experience with us is pleasant and hassle-free.